Polygonal fault systems, a new structural style for the Niobrara and lower Pierre shale, Denver Basin, Colorado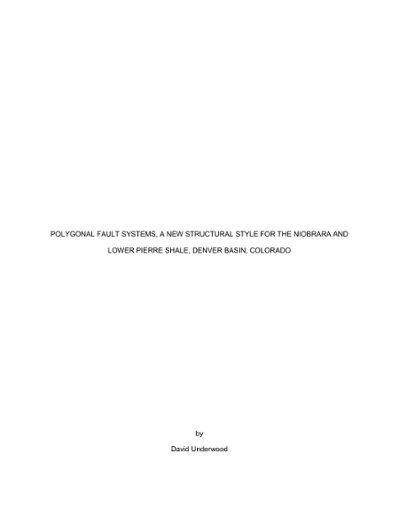 Name:
Underwood_mines_0052N_10138.pdf
Size:
5.037Mb
Format:
PDF
Description:
Polygonal fault systems, a new ...
Advisor
Sonnenberg, Stephen A.
Curtis, John B.
Abstract
Faulting in the Niobrara has proven a long standing issue with interpreters in the Rocky Mountain region, as evidenced by a variety of models for similar structural features. A new structural style called a Polygonal Fault System (PFS) is proposed in order to explain many of the observed fault characteristics including tier-constrained faults with random orientations hosted in a fine-grained lithology. Detailed 3D seismic interpretation from a 16mi2 survey within the Denver basin shows random to nearly random oriented faults in at least two discreet tiers, one in the Niobrara and a second in the Lower Pierre Formation. The fault surfaces link up in planview to form partially closed to incomplete polygons. Observed faults have throws less than 150ft, lengths under 6000ft, and dip at approximately 45 degrees. Isochrons used to constrain growth of the faults determine early genesis for the upper and lower tiers (approximately 70-80 Ma and 80-90 Ma respectively) which agrees with previous literature postulating early genesis. Further data acquisition is advised in order to further understand this system throughout the region and its effect on petroleum production. In addition, a future field study of Niobrara PFS observable in outcrop is recommended in Northwest Kansas.
Rights
Copyright of the original work is retained by the author.
Collections