Understanding heterogeneity and data assimilation in karst groundwater surface water interactions: the role of geophysics and hydrologic models in a semi-confined aquifer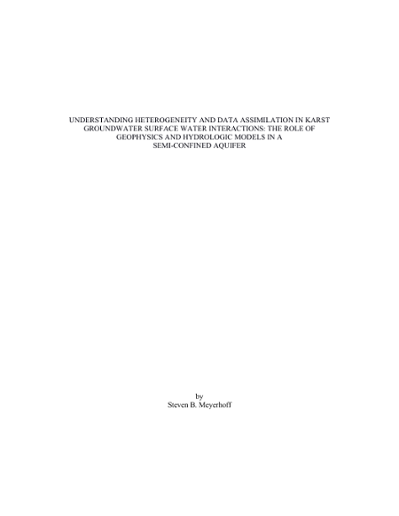 Name:
Meyerhoff_mines_0052E_10136.pdf
Size:
10.75Mb
Format:
PDF
Description:
Understanding heterogeneity and ...
Abstract
Groundwater and surface water historically have been treated as different entities. Due to this, planning and development of groundwater and surface water resources, both quantity and quality are often also treated separately. Recently, there has been work to characterize groundwater and surface water as a single system. Karstic systems are widely influenced by these interactions due to varying permeability, fracture geometry and porosity. Here, three different approaches are used to characterize groundwater surface water interactions in karstic environments. 1) A hydrologic model, ParFlow, is conditioned with known subsurface data to determine whether a reduction in subsurface uncertainty will enhance the prediction of surface water variables. A reduction in subsurface uncertainty resulted in substantial reductions in uncertainty in Hortonian runoff and less reductions in Dunne runoff. 2) Geophysical data is collected at a field site in O'leno State Park, Florida to visualize groundwater and surface water interactions in karstic environments. Significant changes in resistivity are seen through time at two locations. It is hypothesized that these changes are related to changing fluid source waters (e.g groundwater or surface water). 3). To confirm these observations an ensemble of synthetic forward models are simulated, inverted and compared directly with field observations and End-Member-Mixing-Analysis (EMMA). Field observations and synthetic models have comparable resistivity anomalies patterns and mixing fractions. This allows us to characterize and quantify subsurface mixing of groundwater and surface in karst environments. These three approaches (hydrologic models, field data and forward model experiments), (1) show the complexity and dynamics of groundwater and surface mixing in karstic environments in varying flow conditions, (2) showcase a novel geophysical technique to visualize groundwater and surface water interactions and (3) confirm hypothesis of flow and mixing in subsurface karst environments.
Rights
Copyright of the original work is retained by the author.
Collections