Time-lapse 3D VSP monitoring of a CO2 injection project at Delhi Field, Louisiana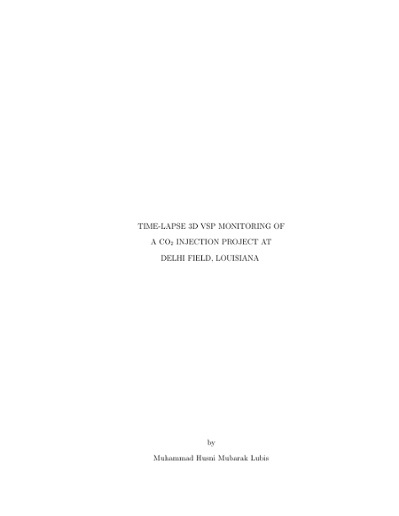 Name:
Lubis_mines_0052N_10082.pdf
Size:
13.51Mb
Format:
PDF
Description:
Time-lapse 3D VSP monitoring of ...
Advisor
Davis, Thomas L. (Thomas Leonard), 1947-
Abstract
Delhi Field is a producing oil field located in northeastern Louisiana. The estimated original oil in place (OOIP) is 357 mmbo and approximately 54% of OOIP has been produced through the primary production and water-flooding. A CO2 EOR program has been implemented since November 2009 to recover an additional 17% of OOIP. Reservoir surveillance using time-lapse 3D seismic data has been conducted to monitor the CO2 sweep efficiency. The goal of this study is to monitor the CO2 flow-path in the area around the injector using time-lapse 3D VSP data. For this purpose, two 3D VSPs acquired in June 2010 and again in August 2011 were processed together. Fluid substitution and VSP modeling were performed to understand the influence of pore-fluid saturation change on VSP records. A cross-equalization was performed to improve the similarity of the datasets. This step is important to reduce the ambiguity in time-lapse observation. The splice of a 3D VSP image into the surface seismic data becomes the key point in determining the reflector of the reservoir. By integrating the observation from the modeling and the splice of 3D VSP image to surface seismic, the CO2 flow-path from injector 164-3 can be identied from 3D time-lapse VSP data. The CO2 was not radially distributed around the injector, but moved toward southwest direction. This finding is also consistent with the flow-path interpreted from surface seismic. This consistency implies that time-lapse 3D VSP surveys at Delhi Field confirm and augment the time-lapse interpretation from surface seismic data.
Rights
Copyright of the original work is retained by the author.
Collections