Effects of transmembrane hydraulic pressure on the performance of forward osmosis membranes, The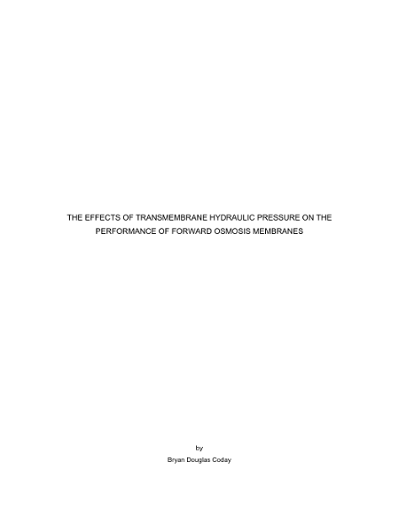 Name:
Coday_mines_0052N_10129.pdf
Size:
5.610Mb
Format:
PDF
Description:
The effects of transmembrane ...
Abstract
Forward osmosis (FO) is an emerging membrane separation process that continues to be tested and implemented in various industrial water and wastewater treatment applications. Breakthroughs in research and manufacturing have produced better performing membranes with improved structural integrity and robustness, enabling new treatment applications of difficult to treat oil and gas (O and G) exploration and production waste streams. The growing interests in the technology have prompted laboratories and membrane manufacturers to adopt standard testing methods to ensure accurate comparison of membrane performance under laboratory controlled conditions; however, standardized methods might not capture specific operating conditions unique to O and G and other industrial applications. In the current study, FO membrane performance was evaluated at increasing transmembrane hydraulic pressure to address the knowledge gap between accepted laboratory conditions and proposed operating conditions of O and G FO membrane treatment modules; future FO membrane elements will operate with elevated feed pressure to overcome pressure drop due to flow resistance in the feed channels and enhance turbulence at the membrane surface. While the driving force for mass transport in FO is primarily transmembrane osmotic pressure, experiments with cellulose triacetate (CTA) and novel polyamide thin-film composite (TFC) FO membranes in this study demonstrated that transmembrane hydraulic pressure could affect membrane performance. Experiments were conducted with three industrial FO membranes and with increasing transmembrane pressure up to a maximum of 18 psi (1.24 bar). A synthetic feed solution of three salts and a draw solution of either an NaCl solution or concentrated seawater at similar osmotic pressure were used to elucidate the effects of transmembrane hydraulic pressure on water flux, reverse salt flux, inorganic ion rejection, and bidirectional solute flux. An organic feed solution in conjunction with NaCl draw solution were also used to investigate changes in membrane rejection of organic molecules. Results from this study revealed that transmembrane pressure minimally affected water flux through the CTA membrane and that solute rejection and reverse salt flux were not impacted by elevated transmembrane pressure. However, water flux through the TFC FO membranes slightly increased with increasing transmembrane pressure and reverse salt flux declined with increasing transmembrane pressure. It was observed that rejection of feed constituents was influenced by transmembrane pressure and reverse salt flux. Organic molecule rejection was similar among all three membranes with little change in performance with increasing transmembrane pressure.
Rights
Copyright of the original work is retained by the author.
Collections