Effect of microstructure on the fracture response of advanced high strength steels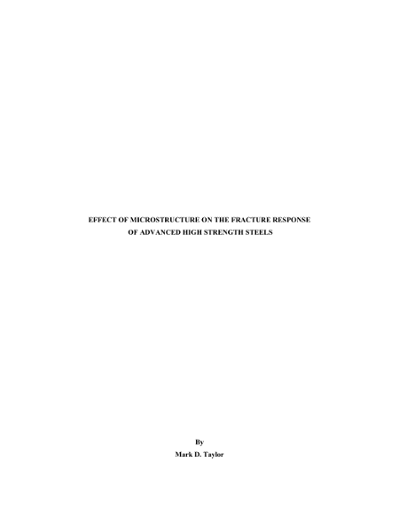 Name:
Taylor_mines_0052N_10123.pdf
Size:
6.521Mb
Format:
PDF
Description:
Effect of microstructure on the ...
Advisor
Matlock, David K.
Abstract
The materials selected to observe microstructural effects on formability included four 780 MPa strength, and four 980 MPa strength AHSS grades produced with varying processing conditions. The grades were an uncoated DP780, a high yield DP780, a galvanized DP780, a TRIP780, a galvannealed DP980, a galvanized DP980, an uncoated DP980, and a fine grained DP980. All AHSS grades were tensile tested to obtain values for ultimate tensile strength, yield strength, percent uniform and total elongation. An analysis was performed to quantify the average grain size of the primary and second phase constituents, as well as the second phase volume fraction present in each AHSS grade. Nanoindentation was performed for each AHSS grade to determine the average hardness of the primary and second phase constituents present. Evolution of microstructural damage in response to deformation was analyzed using a plane strain tensile method developed to impose a localized through-thickness shear fracture. Samples of each AHSS grade were strained to progressively higher percentages of their failure displacement, and microstructural damage was observed using a scanning electron microscope on a metallographic section removed from the localized shear deformation region. Micrographs were analyzed using ImageJ®, and the resulting void percent and number of voids were determined for each test performed. A direct correlation was observed between the number of voids and hardness ratio. The strength of the microstructural constituents affected mechanical properties, suggesting that constituent strength values should be considered when predicting formability limits for higher strength AHSS grades. Since all AHSS grades experienced some critical number of voids before fracture, it was concluded that suppression of void formation can extend the formability limits to higher strains. After observing a percent failure displacement value of 95%, it was determined that the final stage of fracture (void coalescence) is a rapid event that occurs at failure displacements greater than 95%. Hardness values obtained from nanoindentation were determined to accurately incorporate all strengthening effects present in the constituents. Due to the presence of 5% austenite, TRIP780 and DP980H exhibited different yielding behavior, different tensile stress-strain behavior than the other six DP steels, and had the highest total elongation in their respective strength groups. Austenite appeared to offer increased ductility without sacrificing any other material properties of interest.
Rights
Copyright of the original work is retained by the author.
Collections