Multicomponent seismic monitoring of the effective stimulated volume associated with hydraulic fracture stimulations in a shale reservoir, Pouce Coupe field, Alberta, Canada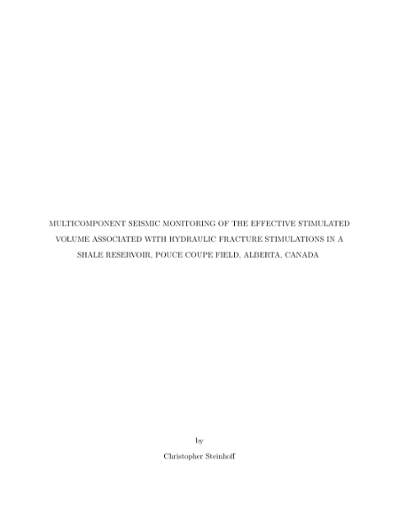 Name:
Steinhoff_mines_0052N_10121.pdf
Size:
29.74Mb
Format:
PDF
Description:
Multicomponent seismic monitoring ...
Advisor
Davis, Thomas L. (Thomas Leonard), 1947-
Abstract
The Reservoir Characterization Project in conjunction with Talisman Energy Inc., have been investigating a time-lapse data set acquired during hydraulic fracture stimulations of two horizontal wells in the Montney Shale at Pouce Coupe Field, Alberta, Canada. Multicomponent seismic surveys and microseismic data were acquired in December 2008 and integrated in this study with multiscale, multidisciplinary reservoir characterization techniques, including geomechanics and production data, to monitor changes within the reservoir associated with the hydraulic fracture stimulations. The goal of this investigation was to study the feasibility of microseismic and time-lapse multicomponent seismic data for correlating hydraulic stimulation success to the enhanced permeability pathways created during the stimulation process. Three independently acquired microseismic monitoring surveys and the detected microseismic events were analyzed to infer the fracture length, height, azimuth, and asymmetry created by the hydraulic stimulation. Integrating the interpretation objectives with the multicomponent surface seismic processing sequence elevated the level of reservoir characterization that can be performed using the Pouce Coupe converted-wave seismic data. Shear-wave splitting as observed by the newly processed converted-wave data were sensitive to fracture induced anisotropy and therefore, provided a measurement of the dominant fracture orientation and fracture density difference within the Montney reservoir interval. Before hydraulic stimulations, the natural fracture conditions resulted in a measured shear-wave splitting magnitude of 2-3%, with Baseline anomalies matching the independently interpreted minimal offset faults only visible on the converted-wave seismic data. Multistage hydraulic fracture stimulations increased the magnitude of shear-wave splitting up to 8%, well above the background noise level of 1%. The natural fractures and faults acted as conduits or barriers to the hydraulic stimulation energy causing a complicated stimulation response in the shear-wave splitting anomalies, due to the interaction between natural and hydraulic fractures. Characterizing the natural fractures and their failure tendencies can help drive the development of such a reservoir because fracture characteristics appeared to govern hydraulic stimulation success. Conventional microseismic interpretation was deemed an unsatisfactory monitoring method of hydraulic fracture stimulations due to the limitation of only detecting the shear-failure events, representing a small amount of the total energy released during fracturing. The affected reservoir monitored by microseismic was concluded to not be characteristic of the volume contributing to production; therefore, the opening and propping of natural fractures were interpreted using shear-wave splitting monitoring and gave rise to a better representation of the effective stimulated volume. Finally, correlation of the overall shear-wave splitting anomalies to the stage-by-stage spinner production data concludes that shear-wave splitting monitoring better distinguishes the effective stimulated volume contributing to production.
Rights
Copyright of the original work is retained by the author.
Collections