Methods for addressing noise and error in controlled source electromagnetic data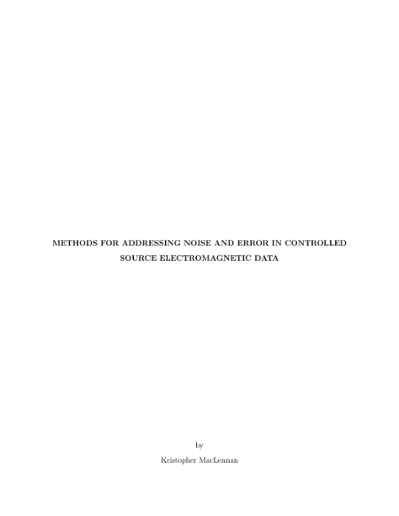 Name:
MacLennan_mines_0052E_10119.pdf
Size:
3.838Mb
Format:
PDF
Description:
Methods for addressing noise and ...
Advisor
Revil, André, 1970-
Abstract
Controlled source electromagnetic geophysical surveys are excellent ways to obtain information about the conductivity structure of the earth, with applications including hydrocarbon and mining prospecting, hydrogeophysical detection and monitoring, and civil and archaeological studies. Invariably, however, various types of noise and errors obscure signal for desired targets, making interpretation difficult. In the case of time-lapse surveys, the magnitude of the measured difference is often on the order of the noise. Complex conductivity effects distort the measurements, leading to incorrect inversion results. This work develops a method for extracting signal from noisy electromagnetic data sets from both time- and frequency-domain surveys using a novel application of the equivalent source technique. It improves data contaminated by uncorrelated random noise, such as that due to receiver coil misalignment and location errors in time-domain EM surveys, and can remove static shifts in the observed electric field amplitude data due to near-surface geologic features in frequency-domain EM surveys. The equivalent source method can either be applied individually to data from each measured time-gate or frequency, or simultaneously to data from all times or frequencies measured. The method can be used in addition to traditional processing techniques and requires little user input. The effectiveness of the method is demonstrated through application to single-survey and time-lapsed noisy time- and frequency-domain EM data, both synthetically generated and collected in the field. The presence of low-frequency (less than or equal to 1 kHz) polarization effects in earth porous materials noticeably increases the amplitude and decreases the phase of measured electromagnetic fields in frequency-domain surveys. By analyzing the sensitivity of cross-well EM measurements to the in-phase and quadrature conductivities, the contribution of the quadrature conductivity (directly associated with the low-frequency polarization effect) can be quantified. Using an integral equation approach for the forward modeling and a gradient-based approach with Tikhonov regularization for the inverse problem, this work shows that with a reasonable amount of noise, the distribution of both the in-phase and quadrature conductivities can be recovered in cross-well tomography. This information may be used in turn to improve the ability to, for instance, monitor saturation changes in oil reservoir production or in geothermal fields.
Rights
Copyright of the original work is retained by the author.
Collections