Effect of microalloying on the strength of high carbon wire steels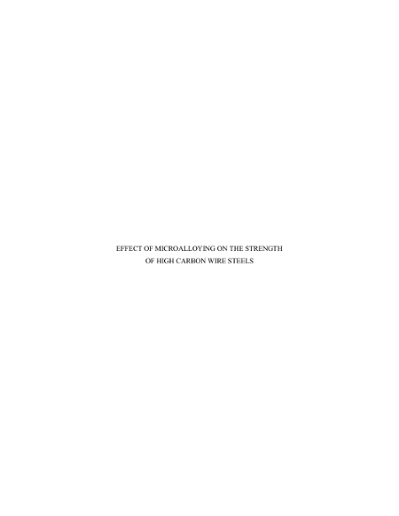 Name:
Miller_mines_0052N_10107.pdf
Size:
5.772Mb
Format:
PDF
Description:
Effect of microalloying on the ...
Advisor
De Moor, Emmanuel
Abstract
Microalloying additions of V, Nb, and N were investigated as means of increasing strength of eutectoid steels for wire applications. In order to examine the effects of microalloying additions during several stages of wire processing, continuous cooling experiments with and without deformation as well as patenting simulations were conducted using a Gleeble® 3500 thermomechanical simulator. Continuous cooling was performed from industrial austenitizing (1093 °C) and laying head (950 °C and 880 °C) temperatures, at rates ranging from 1 50 °C/s. Deformation was induced via hot torsion testing, which was followed by continuous cooling from 950 °C at rates of 5, 10, and 25 °C/s. Industrial wire patenting was simulated by austenitizing at 1093 °C or 950 °C for 30 sec, then rapid cooling to isothermal transformation temperatures of 575, 600, 625, and 650 °C for 15 sec before cooling to room temperature. Metallography, Vickers hardness, pearlite colony size and pearlite interlamellar spacing (ILS) measurements were used to examine the effects of these treatments. Continuous cooling transformation (CCT) curves were constructed for four steels: 1080, V, V+N, and V+Nb. In the V-microalloyed steel, additional N accelerated pearlite transformation and Nb delayed pearlite transformation. Observed N effects are in agreement with the theory of VN nucleating grain boundary ferrite and accelerating pearlite transformation, proposed by Han et al. [1995], and also consistent with observations by Brownrigg and Prior [2002]. Delay of transformation temperatures has been observed due to Nb effects [De Ardo, 2009]. A larger delay observed with higher austenitizing temperatures suggests that Nb precipitates may not be as effective at delaying transformation. V strengthening effects were observed in all microalloyed steels using a model that predicted hardness of eutectoid steels by incorporating colony size and ILS measurements, with maximum strengthening observed for the V+N steel. The V+Nb steel was found to have the greatest refinement of colony size and ILS, and subsequently higher hardness among the test alloys in both the undeformed and deformed conditions, consistent with the delay of pearlite transformation. In general, undeformed samples had much higher hardness values. Patenting simulations performed on microalloyed steels showed the potential for increased strength with V addition with a sufficiently high austenitizing temperature. All microalloyed steels showed higher hardness than 1080 when austenitized at 1093 °C, with V and V+Nb having the greatest strength increase. The effect was not observed with a 950 °C reheat potentially related to insufficient dissolution of precipitates.
Rights
Copyright of the original work is retained by the author.
Collections