Application of simulated annealing inversion to automated model calibration for residential building energy simulation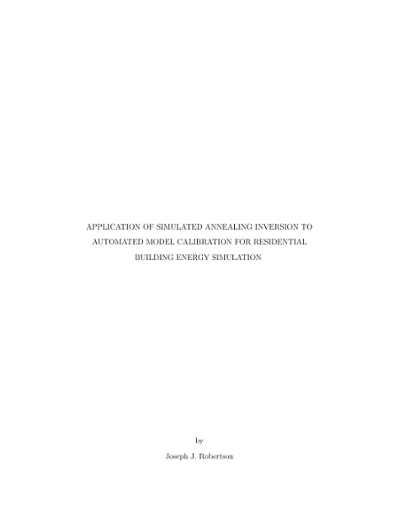 Name:
Robertson_mines_0052N_10030.pdf
Size:
4.591Mb
Format:
PDF
Description:
Application of simulated annealing ...
Abstract
Building energy simulation programs are often used in the residential sector to model home thermal performance and estimate energy savings for changes to building parameters (retrofit measures). Accurate model predictions are not guaranteed since uncertainty in model inputs leads to uncertainty in model output. Analysts may calibrate model inputs to reduce disagreement between simulation-predicted and measured energy uses, however no widely-accepted guidelines exist for systematic and cost-effective residential building model calibration. This study uses a building energy optimization program developed by the National Renewable Energy Laboratory called BEopt(TM)/DOE-2.2 to evaluate three automated residential calibration techniques in the context of monthly, daily, and hourly synthetic utility data for a 1960's era existing home. The home's model inputs are assigned probability distributions representing uncertainty ranges, random selections are made from the uncertainty ranges to define "explicit" input values, and synthetic utility data are generated using the explicit input values. The calibration techniques search for the explicit input values, starting with an uncalibrated model consisting of nominal input values (best-guess values estimated by home audit), using an automated simulated annealing parameter inversion algorithm. Each of the techniques employs this simulated annealing algorithm for recovering calibrated model input values (i.e., approximations of explicit input values) by minimizing residuals between the simulation-predicted energy uses and synthetic utility data. The three calibration techniques evaluated in this study are: a direct simulated annealing approach, a regression metamodeling approach, and an approach based on ASHRAE 1051-RP. Various retrofit measures are applied to the calibrated models and the methods are evaluated based on the accuracy of predicted savings, computational cost, repeatability, automation, and ease of implementation. Results show more computationally expensive techniques generally produced more accurate energy savings predictions than less expensive techniques, although the accuracy improvements were modest and may not have warranted the additional expense. Calibrations may benefit from additional informational content in utility billing data since calibrations to higher frequency data generally provided more accurate energy savings predictions.
Rights
Copyright of the original work is retained by the author.
Collections