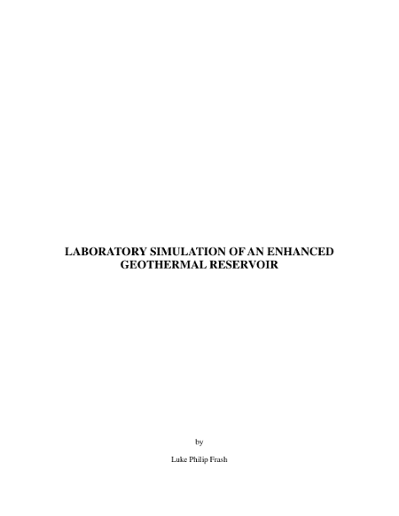 Name:
Frash_mines_0052N_10026.pdf
Size:
15.85Mb
Format:
PDF
Description:
Laboratory simulation of an ...
Advisor
Gutierrez, Marte S.
Abstract
Geothermal energy technology has successfully provided a means of generating stable base load electricity for many years. However, implementation has been spatially limited to rare high-quality traditional resources. Enhanced Geothermal Systems (EGS) technology has been proposed as a potential solution to enable additional energy production from the much more common non-traditional resources. To advance this technology development, a heated true-triaxial load cell has been developed to simulate an EGS system from stimulation to production. This apparatus is capable of loading a 30x30x30 cm rock sample with independent principal stresses up to 13 MPa while also providing heating up to 180 degrees C. Multiple oriented boreholes of 5 to 10 mm diameter may be drilled into the sample while at reservoir conditions. Dual 70 MPa syringe pumps set to flow rates between 10 nL/min and 60 mL/min injecting into a partially cased borehole allow for fully contained fracturing treatments. A six sensor acoustic emission (AE) array is used for geometric fracture location estimation during intercept borehole drilling operations. Hydraulic sensors and a thermocouple array allow for additional monitoring and data collection as relevant to computer model validation as well as field test comparisons. The results from preliminary tests inside and outside of the cell demonstrate the functionality of the equipment while also providing some novel data on the propagation and flow characteristics of hydraulic fractures themselves. Test sample materials used include generic cement grout, custom high performance concrete, granite, and acrylic with particular focus given to granite. Fracturing fluids used include water, brine, and 80W90 oil. Flow testing results have indicated that some fracture conductivity losses experienced with time are reversible and that the relationship between injection pressure and flow rate is a similar function of pressure regardless of fracture network size and complexity. Additionally, a new experimental low-volume high-pressure pulse stimulation method has been proven effective for providing substantial increases in hydraulic fracture conductivity, with some instances of improvement by orders of magnitude.
Rights
Copyright of the original work is retained by the author.
Collections