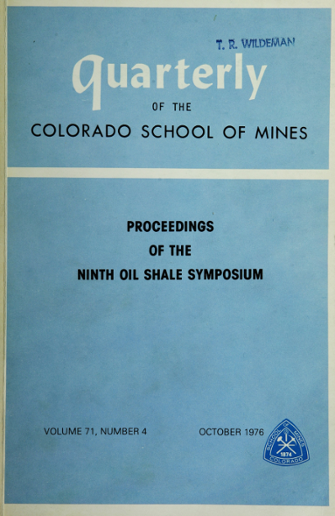 Name:
OSSP_Conf_9_1976.pdf
Size:
60.42Mb
Format:
PDF
Description:
Proceedings of the ninth oil ...
Abstract
From the foreword: The development of a commercial process to produce a synthetic liquid fuel from oil shale always appears to be just beyond the reach of those engineers and scientists striving to make it a reality. The goal appears to be tantalizingly close to them, but like Zeno's runners on the race track, they never quite achieve it. In fact, today, the political, psychological or emotional, social, and environmental aspects of development appear to be much more formidable than technological problems. The Ninth Oil Shale Symposium differs from earlier symposia in that it attempts to recognize reality by placing less emphasis on technology and more on the emotional, political, and cultural problems. A special symposium in the fall of 1975 concentrated on environmental problems of shale oil development, and, as a result, environmental papers were not included in the program. However, an attempt was made to provide papers giving a balanced coverage of the political, technical, and cultural aspects of oil shale development. Once again, I wish to emphasize the success of these oil shale symposia is due to the quality of the papers and the speakers, and the willingness of industry and government agencies to permit the papers to be offered. I thank both the speakers and their employees for participating in the program. James H. Gary Director
Rights
Copyright held by Colorado School of Mines.
In copyright - non-commercial use permitted (http://rightsstatements.org/vocab/InC-NC/1.0/).
Collections