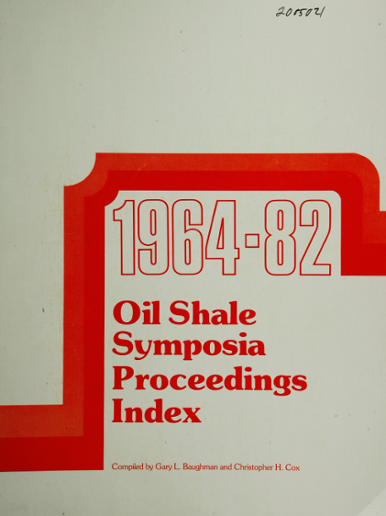 Name:
OSSP_Index_1964-1982.pdf
Size:
12.06Mb
Format:
PDF
Description:
Oil shale symposia proceedings ...
Abstract
From the Forward: Over the 18 years that the Colorado School of Mines Oil Shale Symposia have been presented in conjunction with the Colorado School of Mines Research Institute (1964-65), the American Institute of Mining, Metallurgical, and Petroleum Engineers (1966-74), and the Laramie Energy Technology Center (1978 to 1982), many volumes of information have been presented on the geology, mining, processing, environmental, and socioeconomic aspects of oil shale development. Although proceedings of each symposium were published, location of specific subject matter has been difficult due to lack of indexes and because titles were listed chronologically only in the table of contents of each proceedings. The results of the symposia, therefore, have not been used as beneficially as the value of the information warrants. This problem now has been eliminated by a comprehensive index that will permit easy access to the materials in the Oil Shale Symposia Proceedings. Dr. Gary Baughman and Christopher Cox have compiled an excellent index of all volumes of the Oil Shale Symposia Proceedings by subject, author, company, and chronological order of presentation, which makes access to the information quick, easy, and convenient. It is their plan to keep the index current by updating it from time to time. This accurate, readily accessible index will be a great convenience to all serious workers concerned with the development of an oil shale industry. We are indebted to them for this contribution--James H. Gary, Editor, Oil Shale Symposium Proceedings, September 24, 1982.
Rights
Rights to distribute have been secured, statement will be included pending legal approval.
Collections