ADMIRE: Autonomous Dam Monitoring with Integrated Real-time Evaluation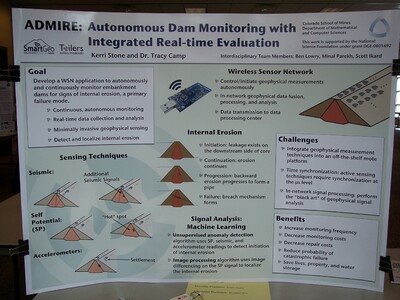 Name:
Graduate_Research_Fair_2010_039.jpg
Size:
1.150Mb
Format:
JPEG image
Description:
ADMIRE: Autonomous Dam Monitoring ...
Abstract
Dams have a large impact on public safety in the United States. Dam failures are far reaching and may result in loss of property, loss of life, and loss of water storage. Despite this fact, dam inspections occur infrequently and are performed unevenly across the structure. As such, current dam monitoring practice is often incapable of detecting internal erosion - a primary failure mode in dams. The inability to detect internal erosion results in increased risk of catastrophic failure. This research focuses on the development of a wireless sensor network (WSN) application to autonomously and continuously monitor embankment dams for signs of internal erosion. To date, a WSN has not been used to assess dam integrity. The use of a WSN to autonomously and continuously monitor dams will improve the ability to detect structural issues before failure occurs. This research develops ADMIRE - Autonomous Dam Monitoring with Integrated Real-time Evaluation, which will continually assess dam integrity through minimally invasive geophysical sensing techniques integrated into a WSN. ADMIRE will implement a machine learning algorithm to calculate the probability of internal erosion based on geophysical sensor measurements. Upon calculating a high probability of internal erosion, the WSN will employ a distributed algorithm to localize the occurrence of internal erosion. ADMIRE will allow for autonomous and continuous monitoring of embankment dams. ADMIRE will contribute significant technological advancements to dam inspection practice.
Rights
The authors retain all rights associated with this work.
Collections