Development of a directionally independent roller measurement value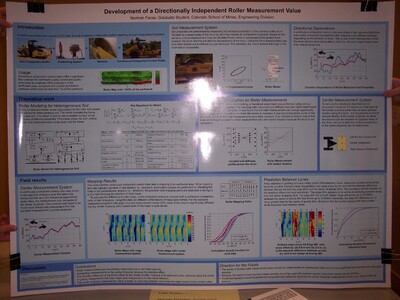 Name:
Graduate_Research_Fair_2010_004.jpg
Size:
1.381Mb
Format:
JPEG image
Description:
Development of a Directionally ...
Abstract
Continuous Compaction Control (CCC) and Intelligent Compaction (IC) rollers promise large potential improvements for earthwork construction. CCC rollers provide a spatial measure of soil properties (e.g., stiffness) over the earthwork surface. CCC rollers can be used for quality control/quality assurance (QC/QA) to enable compaction based feedback control and to create as-built documentation. CCC rollers offer great promise for QC/QA by enabling 100% evaluation of an earthwork area during every roller pass, in contrast to current quantitative QC/QA which evaluates less than 1% of the earthwork after a few roller passes. Experimental data has shown that vibratory roller compactors often exhibit rotational kinematics in addition to translation during operation. This rotation is not considered in the current generation of roller measurement values. A new roller/soil model that allows for rotational kinematics was developed. Using the model, the influence of sensor position on roller measurement values is examined. The influence of drum rotation is shown to be significant. Building upon these findings, a new technique is developed for computing roller measurement values while negating the influence of rotation. This new technique is shown to be directionally independent. The new measurement technique is compared verse the current measurement technique for common CCC roller tasks.
Rights
The authors retain all rights associated with this work.
Collections