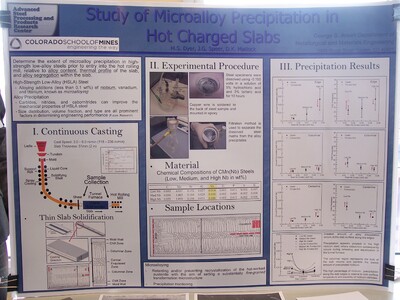 Name:
Graduate_Research_Fair_2010_036.jpg
Size:
1.268Mb
Format:
JPEG image
Description:
Study of Microalloy Precipitation ...
Abstract
As the demand for high strength and toughness of steel increases, the alloy design for HSLA grades is constantly being modified and tailored to available processing configurations. The effects of microalloy precipitation and (tunnel furnace) dissolution during Compact Strip Production (CSP) are explored relative to position within the slab (i.e. thermal profile of the slab), and alloy content. Niobium solute and precipitation fractions are quantified using electrochemical extraction and inductively coupled plasma atomic emission spectrometry (ICP-AES) techniques. The results are relevant in the content of cost effective alloying and increasing alloying efficiency.
Rights
The authors retain all rights associated with this work.
Collections