TestbedProfiler v2: an improved validation tool for wireless sensor network testbed deployment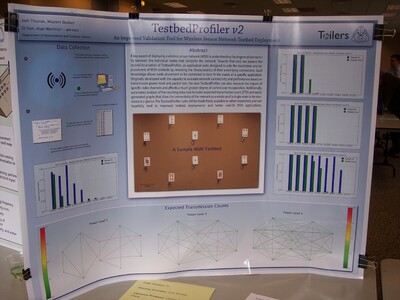 Name:
Graduate_Research_Fair_2010_041.jpg
Size:
1.047Mb
Format:
JPEG image
Description:
TestbedProfiler v2: An Improved ...
Advisor
Han, Qi
Marchiori, Alan
Abstract
A key aspect of deploying a wireless sensor network (WSN) is understanding the degree of connectivity between the individual nodes that comprise the network. Towards that end, we present the second incarnation of TestbedProfiler, an application suite designed to aid the installation and improvement of WSN testbeds by revealing the characteristics of their underlying connections. Such knowledge allows node placement to be optimized to best fit the needs of a specific application. Originally developed with the capacity to evaluate network connectivity and performance based on transmission power level and packet size, the new TestbedProfiler can also measure the impact of specific radio channels and affords a much greater degree of control over its operation. Additionally, automated analysis of the resulting data now includes expected transmission count (ETX) and easily generated graphs that allow the connectivity of the network as a whole or of a single node to be visualized at a glance. The TestbedProfiler suite will be made freely available to other researchers and will hopefully lead to improved testbed deployments and better real-life WSN applications.
Rights
The authors retain all rights associated with this work.
Collections