Transformation of the U.S.-ROK alliance: balancing American strategic flexibility and South Korean modernization, The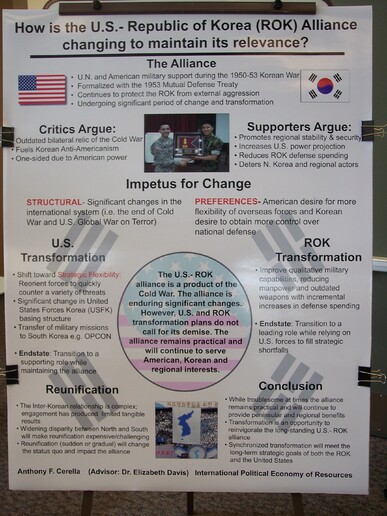 Name:
Graduate_Research_Fair_2010_020.jpg
Size:
1.161Mb
Format:
JPEG image
Description:
The Transformation of the U.S.-ROK ...
Advisor
Davis, Elizabeth Van Wie
Abstract
Even though the bilateral security alliance between South Korea and the United States is a product of Cold War it remains strategically significant for Korean and Northeast Asian stability. The alliance is currently changing as both the United States and South Korea are modifying their military strategies and structures. The United States is currently transforming its defense structure centering on the idea of strategic flexibility. Strategic flexibility involves reexamining and reallocating global force structures to best combat a host of non-traditional threats. American transformation is changing the mission and scope of United States Forces Korea (USFK); considered the linchpin of the U.S.-ROK (Republic of Korea) alliance. Concurrently South Korea is assuming more responsibility for its defense and is instituting a detailed defense modernization plan known as the Defense Reform Plan 2020 (DRP). The simultaneous implementation of both plans will influence regional stability and test the long-term viability of the U.S.-ROK alliance. Simultaneous transformation will alter the alliance however, neither transformation plan calls for the elimination of the alliance. Joint synchronization of American and South Korean transformation plans; continued coordination and communication are the best policies to maintain the alliance. In sum this long-standing Cold War alliance remains valuable for the United States and Northeast Asia as it continues to promote regional security and stability.
Rights
The authors retain all rights associated with this work.
Collections