Technique for large-scale EBSD mapping of polycrystalline silicon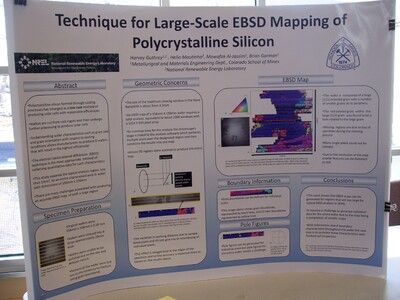 Name:
Graduate_Research_Fair_2010_061.jpg
Size:
1.082Mb
Format:
JPEG image
Description:
Technique for Large-Scale EBSD ...
Abstract
The use of the electron backscattered diffraction (EBSD) technique to create maps of polycrystalline materials is generally limited to areas less than a square millimeter. In order to map larger areas, steps must be taken to address issues such as specimen preparation of large surface areas and orientation of these large specimens so they can be mounted appropriately in the microscope. Issues related to scanning areas larger than the SEM field of view and incorporating the results of these individual scans in to a final map are also still challenges. In this work we present the procedure and results for EBSD mapping of a polycrystalline silicon wafer with an area of 156 X 156 mm2. Techniques for field stitching, choosing pixel densities, and potential hardware modifications for EBSD mapping of large samples will be discussed.
Rights
The authors retain all rights associated with this work.
Collections