Hydrogen peroxide dynamics in an agricultural headwater stream: evidence for significant biological production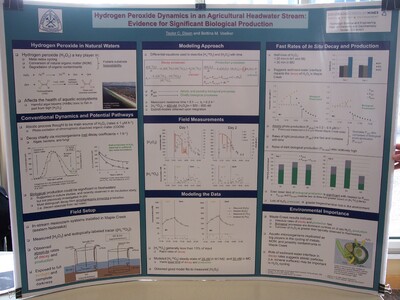 Name:
Graduate_Research_Fair_2010_034.jpg
Size:
1.149Mb
Format:
JPEG image
Description:
Hydrogen Peroxide Dynamics in ...
Abstract
Hydrogen peroxide (H2O2) is known to play key roles in aquatic systems, including metal redox cycling and degradation of organic matter into bioavailable forms. Detailed knowledge of the cycling of H2O2 in natural waters thus fosters the understanding of important aquatic biogeochemical processes. Although biological production of H2O2 has been observed in culture studies, the significance of this process to the H2O2 budget in freshwater systems remains unknown. In this study, isotopically-labeled H2O2 (H218O2) was added to novel in-stream mesocosm systems exposed to light and dark periods. By measuring total H2O2 and H218O2 in tandem, we inferred absolute rates of H2O2 production and decay, which were occurring simultaneously. The results indicate rates of H2O2 production up to several-fold the photo-production rates observed in filtered water samples, and suggest biological production as the dominant control on the H2O2 budget in the agricultural headwater stream studied. The potential implications of this work include enhanced understanding of freshwater metal and organic matter bioavailability, and natural attenuation of aquatic contaminants.
Rights
The authors retain all rights associated with this work.
Collections