Microstructure-mechanical property relationships for Ni-Ti-Pt high temperature shape memory alloys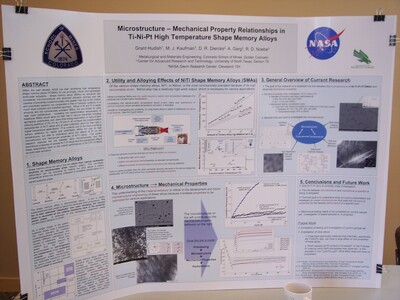 Name:
Graduate_Research_Fair_2010_066.jpg
Size:
1009.Kb
Format:
JPEG image
Description:
Microstructure-Mechanical Property ...
Abstract
Within the past decade, NASA has been developing high temperature shape memory alloys (HTSMAs) for use as simple, robust, and lightweight solid-state actuators. Shape memory alloys (SMAs) as actuators are considered nonconventional and advanced actuation devices and are capable of providing a power to weight ratio greater than that of DC motors, pneumatic systems, and comparable to that of hydraulic systems, in a much more compact and simplified geometry. Alloys of Ni and Ti in equal amounts are the commercially prevalent SMAs, but are limited to uses near room temperature. Increasing the transformation temperature of traditional SMAs would allow for their use in various industries including aerospace, automotive, and down hole energy exploration, to name a few. Alloying additions of Pd, Pt, Au, Hf and Zr all increase the transformation temperatures of Ni-Ti alloys and at least potentially allow for their use in higher temperature applications. Pt is currently one of the most promising ternary additions for stable and predictable SMAs for use at high temperatures, but little is understood about the effects of Pt on the microstructure and mechanical properties of Ni-Ti alloys. The current research explores the link between alloy microstructures and the mechanical properties of several Ni-Ti-Pt alloys and the subsequent effects these relationships have on the overall performance of Ni-Ti-Pt HTSMAs as solid state actuators.
Rights
The authors retain all rights associated with this work.
Collections