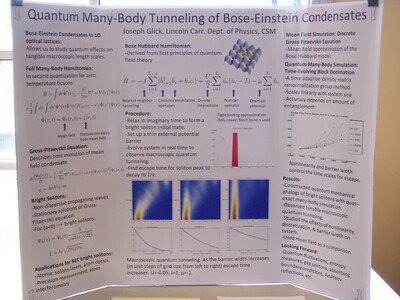 Name:
Graduate_Research_Fair_2010_049.jpg
Size:
1015.Kb
Format:
JPEG image
Description:
Quantum Many-body Tunneling of ...
Abstract
Consider the tunneling of a many-body wavefunction through a potential barrier. Specifically we examine quantum many-body tunneling of ultracold bosons in one dimensional optical lattice potentials. Such systems are described by the Bose-Hubbard model, and serve as an ideal testbed for the observation of quantum phenomena on macroscopic length scales. Bright solitons, self-sustaining nonlinear waves, are confined by a thin potential barrier. By decreasing the size of the barrier or by tuning the nonlinearity, we find that the bound states can be transformed into quasi-bound ones as the soliton tunnels collectively out of confinement. The lowly entangled 1D many-body problem can be numerically solved via time-evolving block decimation: a time-adaptive density matrix renormalization group routine. As a sanity check the results can be compared to mean-field theory predictions obtained from numerical analysis of the Nonlinear Schrodinger equation. The goal behind this effort is to explore the previously intractable physics in regimes where the mean-field theory fails, and to provide a stringent test on the validity of quantum mechanics for complex entangled systems.
Rights
The authors retain all rights associated with this work.
Collections