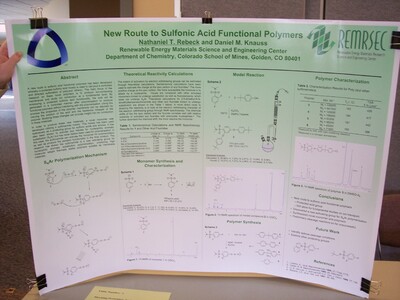 Name:
Graduate_Research_Fair_2010_030.jpg
Size:
995.9Kb
Format:
JPEG image
Description:
New Route to Sulfonic Acid ...
Abstract
A new route to sulfonic acid functional polymershas been developed, where a protected sulfonic acid moiety is used to carryout a controlled and directed sulfonation of poly(aryl ethers). These polymers have a variety of applications, however, the main focus of this research is to produce ion-conducting membranes and study this ion conduction at a fundamental level. By employing a protected sulfonic acid functionality, the acid will be generated in a controlled manner after polymerization to produce functional polymers without interfering with the polymerization. Using this process the properties of the polymer membrane can be adjusted by varying the position of the acid and the backbone linkages of the polymer. Studying these changes can give some insight into ion conduction in these materials. In order to produce these new materials, a novel monomer was developed utilizing a sulfonamide moiety. This moiety has been used extensively as a protecting group for sulfonic acids and amines. It has also been shown to activate aryl halides for nucleophilic aromatic substitution but has never been used for polymerization. In utilizing this group to produce the desired materials, this research has shown the sulfonamide is a new activating group for nucleophilic aromatic substitution polymerization. This monomer produces high molecular weight stable polymers.
Rights
The authors retain all rights associated with this work.
Collections