Coalbed methane produced water organic matter characterization: contribution, origin, and potential impact on membrane treatment technologies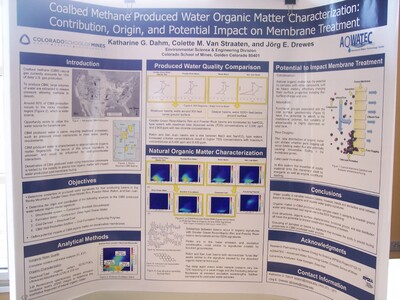 Name:
Graduate_Research_Fair_2010_047.jpg
Size:
1.227Mb
Format:
JPEG image
Description:
Coalbed Methane Produced Water ...
Abstract
Coalbed methane (CBM) is an unconventional gas source with large worldwide reserves. CBM wells are screened along coal seams, where water is produced to release pressure and allow methane to desorb from the coal surface (Orem, 2007). This practice has environmental impacts from disposal of co-produced, highly saline water. Industry treats co-produced water as a waste product. Water is commonly re-injected back into deeper aquifers for disposal. Lack of aquifer storage capacity directly limits gas production unless a solution for water treatment can be found. Regions in the US where CBM occurs in extractable quantities also are regions commonly experiencing water shortages. Utilizing produced water for irrigation, stream flow enhancement and drinking water augmentation is hindered by limited knowledge of water quality and variability. CBM produced water has total dissolved solid concentrations ranging from 1,500 to more than 30,000 mg/L (Benko and Drewes, 2008). In addition to dissolved inorganic constituents, naturally-occurring organic compounds are also present. High pressure membranes have the potential to desalinate produced water to standards required for beneficial use. Little, however, is known about the characteristics of the naturally occurring organic matter and impacts on membrane fouling. Characteristics of organic matter present in produced water derive from sources within the system. Produced water samples, brackish groundwater, and deep-sea ocean water were evaluated to determine dominant chemical signatures. The carbon content in coal suggests dominant characteristics of organic matter in CBM produced water are derived from coal-water interactions. Coal samples were utilized in microcosm experiments to determine interaction chemistry of organic matter leaching off coal surfaces. Complexation of metals and organic matter dictate the size, active concentration, and dominate chemical identity of dissolved organic matter. Complexation with ions, particularly heavy metals, determines the range of organic matter leaching off the coal surface as well as the in-situ organic and inorganic constituent distribution. Experimentation to determine the range of organic matter characteristics, type, size and concentration from different sources support evidence from microcosm experiments that a majority of naturally occurring organic matter originates from coal water interactions. Coal type organic matter characteristics and effects of metal complexation help to predict the potential impacts of coal derived organic matter on membrane fouling. Benko, K. and J. Drewes. 2008. Produced water in the western United States: Geographical distribution, occurrence, and composition. Environmental Engineering Science 22:239-246. Orem, W.H., C. A. Tatu H.E. Lerch, C.A. Rice, T.T. Bartos, A.L. Bates, S. Tewalt and M.D. Corum. 2007. Organic compounds in produced waters from coalbed natural gas wells in the Powder River Basin, Wyoming, USA. Applied Geochemistry 22:2240-2256.
Rights
The authors retain all rights associated with this work.
Collections