Rochleau Mine, man showing guard for reverse lever on locomotives in open-cut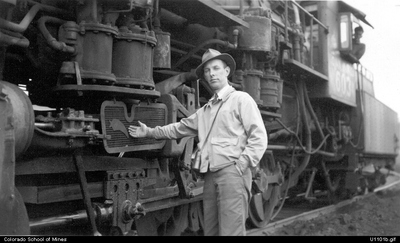 Name:
u1101b.jpg
Size:
199.6Kb
Format:
JPEG image
Description:
[Rochleau Mine, man showing guard ...
Abstract
A man gestures toward the guard for the reverse lever on a locomotive at the Rochleau Mine. The Rochleau Mine (Rouchleau Group, Rouchleau Mine) is a group of iron mines in the Mesabi Range in St. Louis County, Minnesota. The Mine included the Lone Jack Mine, Moose Mine, Ohio Mine and Shaw Mine as an interconnected series of open pits and underground shafts. The workings were operated starting in about 1893 and the Rouchleau is one of the largest and deepest mine complexes in Minnesota. During part of this time the Mine was operated by the Oliver Iron Mining Company.
Rights
Rights management statement available at: http://library.mines.edu/digital/rights.html
Collections