Newport Mine, Sentinels of Safety Trophy ceremony, crowd and band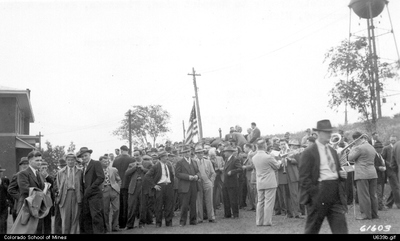 Name:
u639b.jpg
Size:
164.3Kb
Format:
JPEG image
Description:
[Newport Mine, Sentinels of ...
Abstract
The image shows a crowd of men and a small music band at the presentation ceremony for the Sentinels of Safety Award to the Newmont Mine. The Sentinels of Safety Award was established in 1925 to recognize outstanding safety records and promote safety in mining. Mine operations receive a bronze trophy depicting a woman holding a child. The Newport Mine in the Gogebic district near Ironwood, Michigan began operations in 1884. The mine was operated by the Newport Mining Company, then eventually by Pickands, Mather & Company.
Rights
Rights management statement available at: http://library.mines.edu/digital/rights.html
Collections