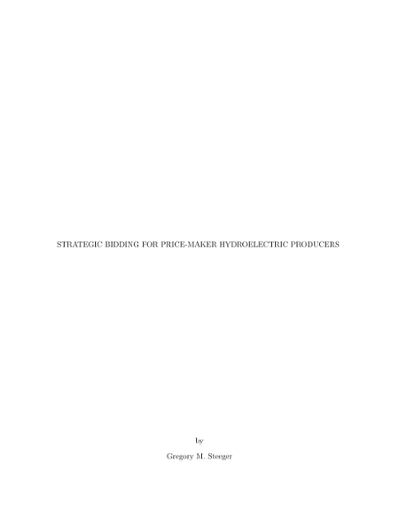 Name:
Steeger_mines_0052E_10493.pdf
Size:
1.969Mb
Format:
PDF
Description:
Strategic bidding for price-maker ...
Advisor
Rebennack, Steffen
Abstract
Hydropower is arguably the most important and widely used renewable energy source in the world. Deregulation has led to the use of auction-based markets while a growing desire for efficient and renewable energy sources has rekindled modeling efforts in the energy sector. Producers that can impact prices with their production quantities are termed price makers, whereas producers that have no influence on prices are termed price takers. We ask: What is the revenue-maximizing production schedule for both single and multiple price-maker hydroelectric producers in a deregulated, bid-based market? We begin by reviewing the problem in which producers submit bids to the day-ahead market, the bidding problem. Following the review, we model the problem over multiple stages for (i) a single price maker assuming deterministic inflows, (ii) a single price maker assuming stochastic inflows, and, finally, (iii) multiple price makers assuming deterministic inflows. Decomposition algorithms, like Benders decomposition and stochastic dual dynamic programming, are commonly used to solve multi-stage problems like ours. In all the above cases, our methodology aims to extend the stochastic dual dynamic programming algorithm. The market interaction between producers creates a revenue function with jump discontinuities. Because of the discontinuities, we use mixed-integer linear programming to model the revenue, thus precluding us from solving the problem with either of the aforementioned algorithms. To overcome this difficulty, we pair Lagrangian relaxation with either Benders decomposition or stochastic dual dynamic programming, in the deterministic and stochastic cases. In addition to often yielding better bounds and solutions, we prove our method never yields worse bounds. For multiple price-maker producers, we consider each price maker's bidding decision in a non-cooperative Nash-Cournot game, in which we seek a Nash equilibrium for all of the price-maker producers' bids in every stage. Unlike current approaches, when one exists, our method returns an equilibrium that is preferred by all price makers.
Rights
Copyright of the original work is retained by the author.
Collections