Improved DC-DC converter for photovoltaic power system applications, An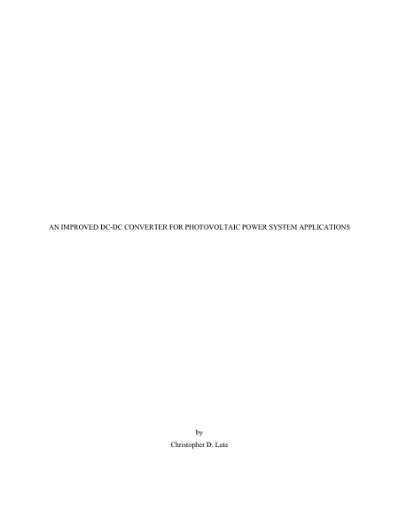 Name:
Lute_mines_0052N_10492.pdf
Size:
5.055Mb
Format:
PDF
Description:
An improved DC-DC converter for ...
Abstract
The Floating Interleaved Boost Converter (FIBC) is a novel DC-DC converter topology that can provide high voltage gain with improved efficiency and decreased input ripple when compared to conventional converters. These advantages make the FIBC a promising candidate for solar photovoltaic (PV) power system applications. PV modules produce low voltage Direct Current (DC) electricity; this must first be converted to a high voltage DC before being converted to Alternating Current (AC). The FIBC has been demonstrated as a DC-DC converter solution for fuel cells and electric vehicle applications in laboratory settings. In this thesis, the FIBC will be investigated for PV applications, focusing particularly on challenges and solutions for commercialization. This thesis will present a four phase FIBC for PV power system applications. The circuit topology will be analyzed mathematically, and its characteristic advantages will be highlighted. A dual loop, digital linear feedback controller will be developed that is capable of regulating both current and voltage in the device. Additionally, Maximum Power Point Tracking (MPPT), a requisite for PV power converters, will be included and demonstrated. Simulation results from PSIM will be provided to illustrate key findings and control development. The development of a hardware prototype using an embedded microcontroller will be detailed. Finally, the experimental testing and results will be discussed.
Rights
Copyright of the original work is retained by the author.
Collections