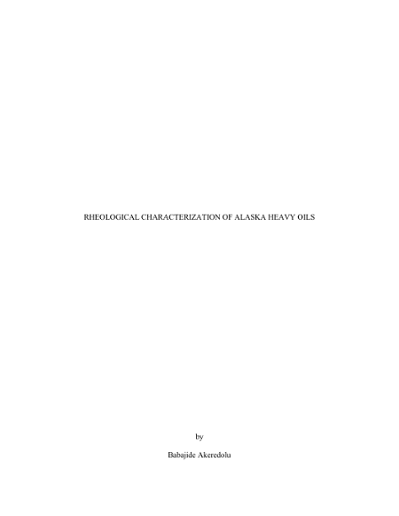 Name:
Akeredolu_mines_0052N_10488.pdf
Size:
4.225Mb
Format:
PDF
Description:
Rheological characterization of ...
Advisor
Liberatore, Matthew W.
Abstract
Heavy crude oil reserves from the North Slope of Alaska are highly viscous, biodegraded oils that make standard oil production methods ineffective. A matrix of 18 mixtures with varying sand and water contents encompass the properties likely to be seen during production, especially cold production methods. Physical properties of the Alaska heavy oils were studied by viscosity measurements, including small amplitude shear tests and flow tests in a temperature range of -10oC to 60oC. The viscosity was observed to decrease with increasing temperature and displayed shear thinning. The activation energy of viscosity as a function of temperature ranged between 67 kJ/mol and 92 kJ/mol, similar to other heavy oils. Sand content alters the viscosity by up to 370% and non-monotonically while the water content changes viscosity by 53% or less. Also, a high pressure rheology apparatus was constructed to measure viscosity of Alaska heavy oil saturated with methane at pressures from 15 psi to 1800 psi and shear rates from 0.1 s[superscript -1] to 500 s[superscript -1]. Viscosity of Alaska heavy oil is pressure dependent showing an order of magnitude decrease at a pressure of 1500 psi. Viscosity had a minimum value of 0.11 Pa-s and a maximum value of 590 Pa.s at 60oC/1810 psi and 0oC/15 psi, respectively. These rheological properties contribute to the overall objective of the project which is to advance seismic monitoring, using chemical and physical characterization of core samples in combination with stimulated production experiments, to optimize the recovery of heavy oils from Alaskan deposits.
Rights
Copyright of the original work is retained by the author.
Collections