Alternatives to organic acid surface modification of ZnO for excitonic photovoltaics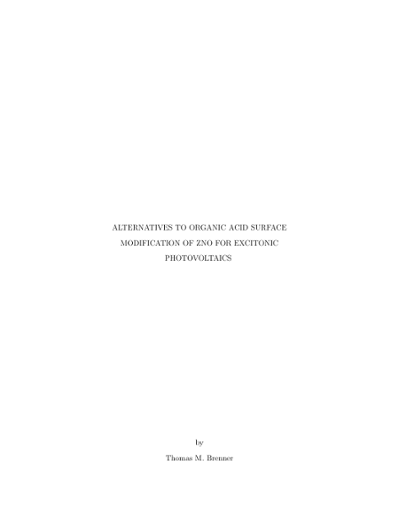 Name:
Brenner_mines_0052E_10486.pdf
Size:
10.92Mb
Format:
PDF
Description:
Alternatives to organic acid ...
Advisor
Furtak, Thomas E. (Thomas Elton), 1949-
Collins, Reuben T.
Abstract
Surface modification of metal oxides with molecular monolayers is an effective strategy for tuning interface properties in excitonic devices employing metal oxides as charge accepting and transport layers. The most commonly used attachment chemistries are acid/base reactions employing organic acids. The use of acid/base chemistries has presented a problem for one of the most commonly used and promising metal oxides in excitonic devices, zinc oxide (ZnO). ZnO is easily etched by even weak organic acids, leading to non-ideal monolayers and the accumulation of surface complexes during etching, which is particularly problematic for ZnO-based dye sensitized solar cells (DSSCs). Two ways to address this issue have been explored. The first approach is to employ a triethoxysilane (TES)-based covalent attachment scheme instead of an acid/base reaction for attaching modifier molecules. We demonstrate that dipolar mixed monolayers of phenyltriethoxysilane-based molecules tune the work function of ZnO and the performance of bulk heterojunction photovoltaic devices containing modified ZnO layers. This indicates these modifiers are effective for tuning interfacial electronic structure. The second approach is to investigate Zn[subscript 1-x]Mg[subscript x]O (ZnMgO) alloys in order to produce a more etch resistant material with similar electronic properties to ZnO. These alloys, when exposed to the prototypical modifier benzoic acid (BA), demonstrate a steady-state, macroscopic etch rate that decreases up to an order of magnitude (at 20% Mg) compared to ZnO. Infrared spectroscopic characterization of BA-modified ZnMgO indicates a monolayer of BA attaches to the ZnMgO surface nearly instantaneously and remains throughout etching. These results suggest that ZnMgO is a promising alternative material that may alleviate some of the problems with ZnO etching. However, for applications of this material as a substrate for dye sensitization, the initial etch rate, and not the steady-state rate, is really the quantity of interest. We investigated the initial etch rate of ZnMgO exposed to N3 dye (cis-bis(isothiocyanato)bis(2,2'-bipyridyl-4,4'-dicarboxylato)-ruthenium(II)). We find the initial etch rate of ZnMgO increases with Mg content, in contrast to the steady-state etch rates observed for BA-treated ZnMgO. We also find that the primary products of etching are Zn-carboxylate products. From these results we propose a mechanism for the observed etch resistance.
Rights
Copyright of the original work is retained by the author.
Collections