Stability in energy reconstructions of the highest-energy cosmic rays measured by the surface detector of the Pierre Auger Observatory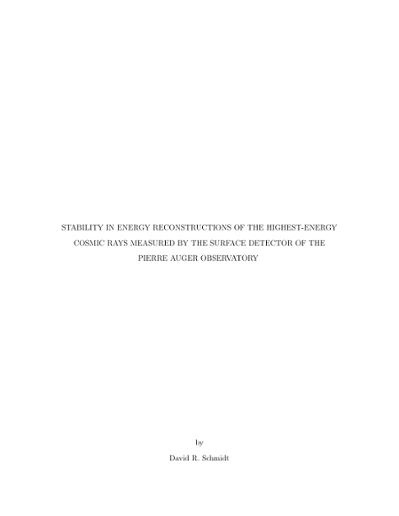 Name:
Schmidt_mines_0052N_10482.pdf
Size:
6.074Mb
Format:
PDF
Description:
Stability in energy reconstructions ...
Advisor
Sarazin, Frederic
Abstract
Using the data of the Pierre Auger Observatory, this thesis illustrates the instability in surface detector energy reconstructions at low zenith angles via the use of two different, yet valid, lateral distribution functions. These instabilities are shown to result largely from a lack of information constraining the lateral distribution function fit at 1000 m from the shower axis, which is important for the determination of the energy estimator S1000. This lack of constraint is found to be a geometric effect attributed to the interplay between surface detector configuration and detector response. The influence of low zenith angle instabilities in energy reconstruction on energy dependent studies is also demonstrated in the context of a point-source anisotropy scan.
Rights
Copyright of the original work is retained by the author.
Collections