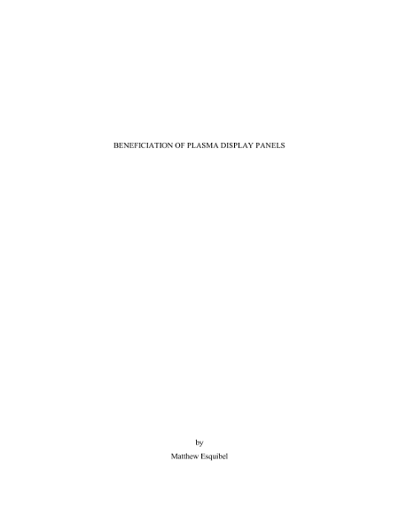 Name:
Esquibel_mines_0052N_10474.pdf
Size:
2.463Mb
Format:
PDF
Description:
Beneficiation of plasma display ...
Advisor
Taylor, Patrick R.
Abstract
A literature review, thermodynamics, and experimental testing were used to develop a beneficiation method for plasma display panels. The proposed process includes cutting the adhered glass, separating the front and back glass, acid leaching the glass panels separately, precipitating indium hydroxide, and precipitating rare earth oxalates. This process has the advantage of not requiring the glass to be crushed. Combining the front and back glass into one leaching stage followed by a two-stage precipitation is an option, but further test work is required. It was found that the best leach conditions for the ITO powder during testing was a temperature of 90°C, agitation rate of 600 rpm, 2.0054 g/L, 1M H2SO4, and 4 hours of leaching time. 99% of the indium was extracted at a grade of 96%. Leaching results suggest the process is controlled by the chemical reaction. The indium hydroxide precipitation was found to be optimal at a pH of 6, agitation rate of 400rpm, temperature of 25°C, 84 g/L NaOH, and a precipitation time of 90 minutes.96% of the indium was recovered as a hydroxide at a grade of 97%. The acidic leaching of the rare earth phosphor powder was found to be best at a temperature of 70°C, agitation rate of 600 rpm, 1M H2SO4, 2.5g/L, and 4 hours of leaching time. 99% of the REES were extracted with these parameters. Leaching results suggest the process is controlled by the chemical reactions. The parameters were then used on the phosphor glass and extracted 69% of the REEs at a grade of 10%. Rare earth oxalate precipitation results showed that it was possible to recover 98% of the REEs. Combined leaching experiments showed promise in extracting both indium and the REEs, but further work is required. A two-stage precipitation was attempted on the combined leach solution. The first stage is an indium hydroxide precipitation and the second stage is a rare earth oxalate precipitation. The precipitation results were encouraging, but a high indium concentration is required for the first precipitation stage to be selective. Further work is required on the two-stage precipitation parameters.
Rights
Copyright of the original work is retained by the author.
Collections