Wellbore integrity analysis for wellpath optimization and drilling risks reduction: the Vaca Muerta Formation in Neuquén Basin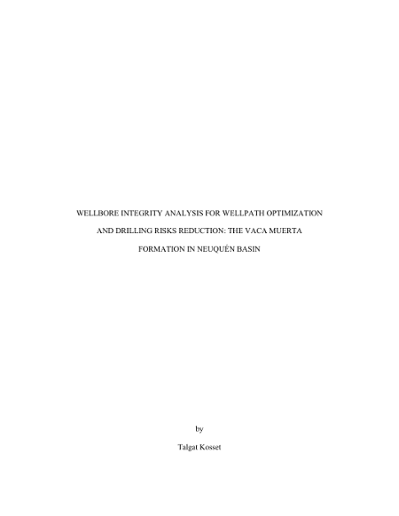 Name:
Kosset_mines_0052N_10469.pdf
Size:
6.003Mb
Format:
PDF
Description:
Wellbore integrity analysis for ...
Abstract
The Vaca Muerta Formation of the Neuquén Basin is an emerging shale play with extensive lateral extent and thickness up to 300m with significant anisotropy and heterogeneity throughout the basin. Stress analysis obtained using drilling induced tensile fractures and breakouts indicate a steadily orientated stress tensor and principal stress magnitudes consistent with the normal faulting stress regime. Analysis of wellbore integrity and limited number of wells drilled imply that horizontal wells drilled in the north-south direction in the Vaca Muerta Formation are the most productive. An integrated wellbore stability study was utilized to solve wellbore instability events including stuck pipe and tight holes encountered during the drilling of recent wells, to optimize future drilling operations, to maximize the drilling margin for the prospective wells, and to reduce drilling risks in the field. Past wellbore stability analysis include only a geomechanics component with isotropic rock assumption without incorporating temperature variations, rock-fluid interactions to predict instability issues using numerical models. In this study, the geomechanical model was coupled with the in-situ stress and anisotropic formation properties, temperature alteration, shale-fluid physico-chemical interactions, and the flow-induced stress using the Mohr-Coulomb and Mogi-Coulomb failure criteria and possible causes of the wellbore-instability issues have been identified. The well trajectory, drilling-fluid density, and types of water-based mud were confirmed to have a dominant impact on the occurrence of the wellbore-instability problems in the Neuquén Basin. Core data, imaging, and sonic scanner logs were utilized to obtain in-situ stress magnitudes, orientations and formation properties. The stochastic risk and sensitivity analysis were conducted to evaluate the impact of the obtained input data on the study outcome. The data obtained from thirteen wells in the Vaca Muerta Formation was analyzed. The results show that a heavier drilling fluid with an increase of 0.1 g/cc from the actual mud weight used in the current wells will minimize the instability issues experienced. The results of this study could benefit the remediation and prevention of wellbore instabilities resulting better economics for the field development.
Rights
Copyright of the original work is retained by the author.
Collections