Evaluation of low salinity waterflooding in carbonates using simulation and economics, An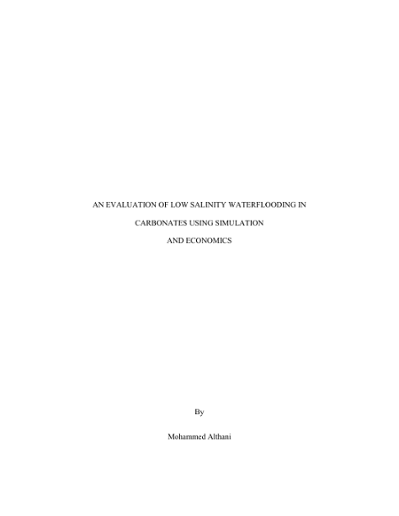 Name:
Althani_mines_0052N_10466.pdf
Size:
5.106Mb
Format:
PDF
Description:
An evaluation of low salinity ...
Abstract
Improving oil recovery by low salinity waterflooding (LSWF) has gained a lot of attention in the last two decades. The effect of LSWF was demonstrated by coreflooding experiments in several core samples from sandstone and carbonate reservoirs around the world. This effect has also been shown in a field scale by some field pilot trials. While the exact mechanisms that cause increased recovery due to LSWF are not fully understood, most agree that changes in wettability and interfacial tension are the reasons that LSWF perform better than high salinity waterflooding (HSWF). LSWF can therefore be modeled by changing the property that determines the effect of wettability in fluid flow equations, which is the relative permeability. In this research, coreflooding results from a carbonate reservoir are used to find the relation between the relative permeability curves for HSWF and LSWF. A numerical simulation model of the coreflooding experiment showed that the relative permeability for the LSWF can be estimated by changing only one parameter in the Corey-type relative permeability equation of the HSWF: residual oil saturation. An application of this result was performed on a full-field simulation model to evaluate the effect of LSWF using simulation and economics. The field model was built for a carbonate reservoir in the Madison formation of Wyoming. The simulation results showed an increase in the recovery by more than 5% of the oil in place by using LSWF instead of HSWF. An economic analysis was performed to determine if the additional oil would justify the expense of making low salinity water. With proper assumptions of the construction and operating costs of a water desalination plant, a development plan with LSWF showed a higher net present value than a development with HSWF. This research provides a practical approach to evaluate the effect of LSWF on certain fields using simulation. It provides a screening tool to quickly evaluate the oil gain from the LSWF before spending money on core samples testing for further research.
Rights
Copyright of the original work is retained by the author.
Collections