Depositional environment and reservoir characterization of the Paleocene Fort Union Formation, Washakie Basin, southwest Wyoming, U.S.A.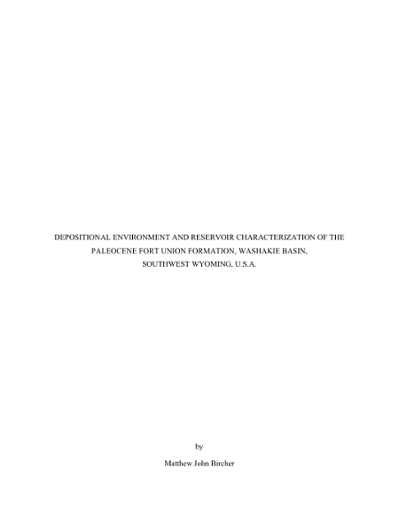 Name:
Bircher_mines_0052N_10463.pdf
Size:
13.61Mb
Format:
PDF
Description:
Depositional environment and ...
Abstract
Recent horizontal wells in the Washakie Basin of Southwestern Wyoming have targeted liquids-rich fluvial sandstones within the Paleocene China Butte Member of the Fort Union Formation. Deposition was in alternating meandering and braided fluvial successions which created complex reservoir compartmentalization and depositional heterogeneity. Liquid-rich hydrocarbons migrated from deeper source rocks or were generated from in situ interbedded coals. Four slabbed cores were described to determine relationships between facies, wireline log data, and quantitative core data. Generally, cross-stratified and coarser-grained active channel fill facies correspond to higher quality reservoir. Minor or abandoned channel fill facies are generally finer-grained, clay and shale rich, and produce lower quality reservoirs. Locally, abrupt contacts between channel sands indicate uninterrupted channel migration and deposition. Floodplain deposits are abundant and comprised of mudrocks, carbonaceous shales, and coals. Floodplain facies overlie levee deposits, and are subsequently overlain by younger channel fill deposits associated with channel migration. In some stratigraphic intervals, amalgamated sands with sparse interfluve sediments are associated with periods of lower-sinuosity, or braided fluvial deposition. X-ray diffraction, scanning electron microscopy, and thin section petrography analyses were performed on all reservoir facies. In decreasing quantities, detrital grains consist of quartz and feldspar grains, with chert, metamorphic, and argillaceous rock fragments. Reservoir sandstones are well-consolidated, moderately sorted, medium to coarse-grained, subfeldspathic to feldspathic litharenites, sub-litharenites, and litharenites. Metamorphic, plutonic, and sedimentary grains and rock fragments indicate variable clastic sources most likely originating from the Uinta and Wind River Mountains. Fort Union sands were most certainly deposited by alternating cycles of high-sinuosity meandering and braided stream processes. Channel, channel margin, and floodplain facies are identified in wireline logs and cores, and are typical of high-sinuosity fluvial deposition. Pervasive coal deposition indicates prolonged hiatus between established and confined fluvial channels. Local carbonaceous shales are composed of Type III organic matter and source primarily gas within the system. Evidence for in-place liquid-hydrocarbons are Type II kerogen and fluorescence in coals. Deeper Type II source rocks in the Cretaceous Almond and Lewis Formations may also be volumetrically contributing liquid hydrocarbons to the system via fractures and fault systems.
Rights
Copyright of the original work is retained by the author.
Collections