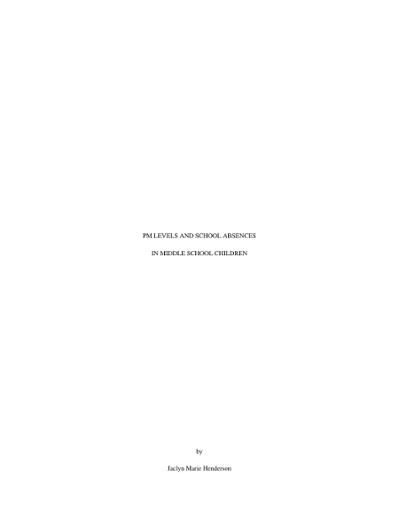 Name:
Henderson_mines_0052N_10457.pdf
Size:
4.056Mb
Format:
PDF
Description:
PM levels and school absences ...
Advisor
Navidi, William Cyrus
Abstract
The purpose of our research was to determine the relationship between the middle school in Libby, Montana and the level of particulate air pollution. Libby, Montana, home to approximately 2600 residents, is located in northwestern Montana. The stoves located inside most of the homes in Libby are wood-burning stoves. To keep warm in the winter, the residents would burn a significant amount of wood which is not good for air quality. This can result in high levels of particulate matter air pollution. The particles in the pollution that have a diameter less than 10 microns can cause severe health effects. These microns, known as PM10, have been linked to increased absence rates in schools. During the years 2003-2005 data was collected of the average particulate matter and the number of school absences. In the years 2005-2008, over 1100 of the wood-burning stoves in the town were replaced with newer, cleaner-burning models. This resulted in a significant reduction in wintertime particulate levels. We fit generalized linear models assuming both a Poisson and binomial distribution for the outcome. We found that higher levels of particulate matter are associated with larger number of absences, at least on some days of the week and during some months. We also found that higher wind speed, larger wind gust, and higher relative humidity were associated with higher number of absences. Higher temperatures were associated with lower number of absences.
Rights
Copyright of the original work is retained by the author.
Collections