Development of 166Ho skin patch to treat skin diseases with 1 MW TRIGA reactor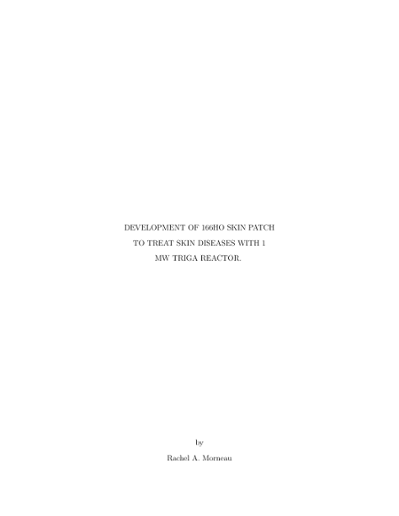 Name:
Morneau_mines_0052N_10449.pdf
Size:
11.38Mb
Format:
PDF
Description:
Development of 166Ho skin patch ...
Advisor
Sarazin, Frederic
Abstract
Isotopes from the lanthanide series are suitable for intense localized radiotherapy of tumors and melanomas. [superscript 166]Ho is a promising radioisotope for use in medical radiotherapy due to its relatively short half-life of 26.8 hours and emission of high-energy [beta]-particles. [superscript 166]Ho can be produced in suitable quantities using the USGS 1 MW TRIGA reactor located at the Denver Federal Center. A prototype patch was created by RF sputtering holmium oxide onto Kapton foil. The prototype patch showed that [beta]-particles have good penetration and rapid fall-off in the photographic paper. A few short comings were observed in the prototype holmium radiotherapy patch. The current RF sputtering process is slow and non-uniform. This may be due to using a holmium oxide target instead of a holmium metal target. Delamination was observed in some of the prototype patches. A design that contains the holmium deposition will be necessary. The activity and the presence of contaminants were analyzed using gamma-spectra dominated by an 80.6 keV gamma-ray. Irradiation and measurements of a holmium oxide radiotherapy patch that was sputtered for 1 h at 150 W show an activity of 7.03 [plus-minus sign] 0.35 [mu]Ci. Error is largely due to the error in the calibrated sources as well as inaccuracies from systematic error in the solid angle measurements and statistical error in measuring counts.
Rights
Copyright of the original work is retained by the author.
Collections