Combustion synthesis: self-propagating high-temperature synthesis (SHS) and decomposition combustion synthesis (DCS) for production of calcium phosphate biomaterials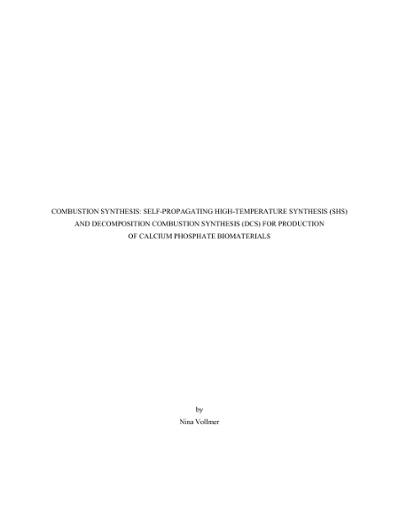 Name:
Vollmer_mines_0052E_10440.pdf
Size:
7.619Mb
Format:
PDF
Description:
Combustion synthesis : self-pr ...
Abstract
Synthetic calcium phosphate (CaP) materials exhibit unique chemical, biological and physical properties. Subsequently, they are routinely used as bone graft substitute materials. There is significant demand for a reliable synthesis technique that can rapidly produce bioactive CaP biomaterials[1-4]. The purpose of this research was to evaluate the potential of specific combustion synthesis (CS) techniques: Self-propagating high-temperature synthesis (SHS) and decomposition combustion synthesis (DCS) for the production of CaP constructs and powders and to clarify the relationships between CS reactant properties, reaction parameters and product properties. CS reactions are highly versatile; reactant composition and stoichiometry can be modified to incorporate specific atoms or ions into the final products to enhance mechanical performance, specific material properties, bioactivity and functionality in vivo. SHS reactant composition and reactant stoichiometry were modified to generate porous three-dimensional CaP scaffolds substituted with silver (Ag), strontium (Sr), magnesium (Mg), [beta]-tricalcium phosphate (TCP) or reacted hydroxyapatite (HA). Post-synthesis, 100 TCP constructs were heat treated and coated with collagen, alginate or chitosan to produce CaP-based composite devices. Product composition, morphology and mechanical properties were characterized to elucidate the effects of altering reactant composition and stoichiometry on product properties. Antimicrobial performance of the CaP-Ag constructs was assessed against Escherichia coli, while cytotoxicity, biocompatibility and biologic response to the CaP-Ag constructs were assessed with a human fetal osteoblast cell line (ATCC, CRL-11372). DCS reactant ratio was modified to generate CaP biopowders with specific chemistries. Product composition and morphology were analyzed and in vitro testing methods were utilized to determine the effects of controlling product composition on cytotoxicity, proliferation, biocompatibility and biomineralization. SHS and DCS represent manufacturing methods that can be utilized to synthesize CaP constructs and biopowders for use in bone tissue engineering applications.
Rights
Copyright of the original work is retained by the author.
Collections