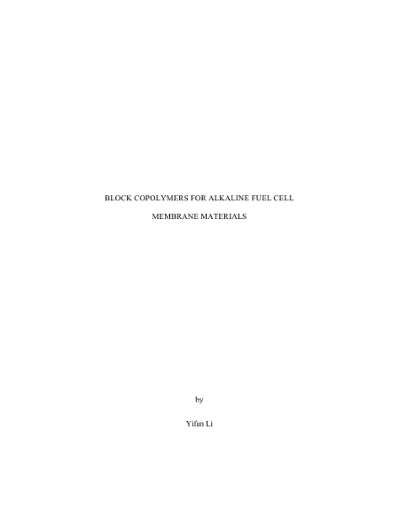 Name:
Li_mines_0052E_10429.pdf
Size:
3.828Mb
Format:
PDF
Description:
Block copolymers for alkaline ...
Advisor
Knauss, Daniel M.
Abstract
Alkaline fuel cells (AFCs) using anion exchange membranes (AEMs) as electrolyte have recently received considerable attention. AFCs offer some advantages over proton exchange membrane fuel cells, including the potential of non-noble metal (e.g. nickel, silver) catalyst on the cathode, which can dramatically lower the fuel cell cost. The main drawback of traditional AFCs is the use of liquid electrolyte (e.g. aqueous potassium hydroxide), which can result in the formation of carbonate precipitates by reaction with carbon dioxide. AEMs with tethered cations can overcome the precipitates formed in traditional AFCs. Our current research focuses on developing different polymer systems (blend, block, grafted, and crosslinked polymers) in order to understand alkaline fuel cell membrane in many aspects and design optimized anion exchange membranes with better alkaline stability, mechanical integrity and ionic conductivity. A number of distinct materials have been produced and characterized. A polymer blend system comprised of poly(vinylbenzyl chloride)-b-polystyrene (PVBC-b-PS) diblock copolymer, prepared by nitroxide mediated polymerization (NMP), with poly(2,6-dimethyl-1,4-phenylene oxide) (PPO) or brominated PPO was studied for conversion into a blend membrane for AEM. The formation of a miscible blend matrix improved mechanical properties while maintaining high ionic conductivity through formation of phase separated ionic domains. Using anionic polymerization, a polyethylene based block copolymer was designed where the polyethylene-based block copolymer formed bicontinuous morphological structures to enhance the hydroxide conductivity (up to 94 mS/cm at 80 °C) while excellent mechanical properties (strain up to 205%) of the polyethylene block copolymer membrane was observed. A polymer system was designed and characterized with monomethoxy polyethylene glycol (mPEG) as a hydrophilic polymer grafted through substitution of pendent benzyl chloride groups of a PVBC-b-PS. The incorporation of the hydrophilic polymer allows for an investigation of the effect of hydration on ionic conductivity, resulting in the increase in membrane water affinity, enhancement of conductivity and reduced dependence of conductivity on relative humidity. A study of crosslinking of block copolymers was done wherein the crosslinking occurs in the non-matrix phase in order to maintain mechanical properties. The formation of a cationic crosslinked structure improves the mechanical integrity of the membrane in water while showing little deleterious effect on ionic conductivity and mechanical properties.
Rights
Copyright of the original work is retained by the author.
Collections