3-D seismic characterization of the Niobrara Formation, Silo field, Laramie County, Wyoming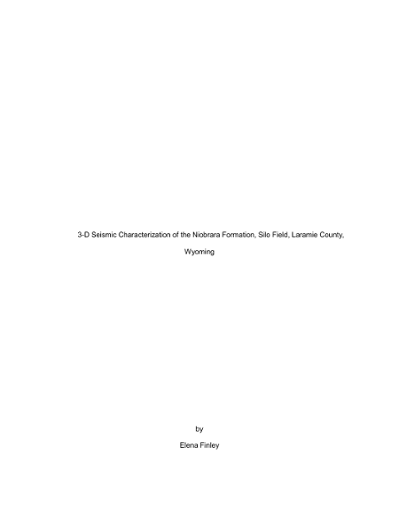 Name:
Finley_mines_0052N_10417.pdf
Size:
13.22Mb
Format:
PDF
Description:
3-D seismic characterization of ...
Advisor
Sonnenberg, Stephen A.
Abstract
Silo Field, located approximately 17 miles northeast of Cheyenne, Wyoming, is an important Niobrara oil field. The field produces from open, vertical, natural fractures that trend northwest-southeast across the field. Several proposed ideas for fracture genesis include: differential compaction or folding over basement highs, proximity to regional fault and fracture systems, pore fluid pressure increases due to hydrocarbon generation, and reactivation of pre-existing faults. This study integrated previous work, 3-D seismic, and FMI log analysis in order to determine the nature of faulting and fracturing in Silo Field, the nature of the Permian salt edge, and how basement structure tied in with the observed features. The main features observed in the seismic data were: a fault-bound syncline (possible wrench faults penetrating from the basement through the Niobrara) in the northwestern corner, a possible listric detached fault system in the Niobrara which may be a polygonal fault system in the south-central area, and a northwest-southeast trending Permian salt edge. The overall structure of Silo Field is a structural monocline. The fault-bound syncline feature is present at all of the mapped horizons (basement, Wolfcamp, Permian salt, Sundance, Dakota, Niobrara, Pierre event, and the shallow horizon). In this study, the basement structure appeared to have some control on all of the main features. The open fracture directions within the main field area were oriented parallel to the syncline faults. A lineament analysis showed that some of the listric faults corresponded to surface lineaments, indicating that the fault orientations might be influenced by basement faults. The location of the Permian salt edge appears to follow the syncline faults relatively closely, meaning that basement structure might be controlling the salt edge in Silo Field. Finally, the structural monocline present in the field is partially controlled by differential compaction over the salt edge. However, based on the interpretations of possible basement faults that follow surface lineaments, the structural monocline could also have a component of basement control. All of this information demonstrates that Silo Field is a field heavily controlled by the nature of the basement. By understanding the basement structure of the entire field, it is possible to determine the best way to develop the field in the future.
Rights
Copyright of the original work is retained by the author.
Collections