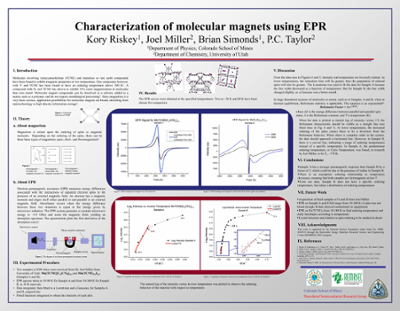 Name:
remrsec-reu-2010-poster-Kory-R ...
Size:
545.3Kb
Format:
PDF
Description:
Characterization of molecular ...
Abstract
Molecules involving tetracyanoethylene (TCNE) and transition or rare earth compounds have been found to exhibit magnetic properties at low temperature. One compound, however, with V and TCNE has been found to have an ordering temperature above 300 K. A compound with Fe and TCNE has shown to exhibit 32% more magnetization in molecules than iron metal. Molecular magnet compounds can be dissolved in a solvent, added to a matrix such as a polymer, and do not require metallurgical processing. Since magnetism is a very basic science, application possibilities for molecular magnets are broad, stretching from nanotechnology to high density information storage.
Rights
Copyright of the original work is retained by the author.