Photoluminescence quenching and hot carrier transfer in nanocrystalline silicon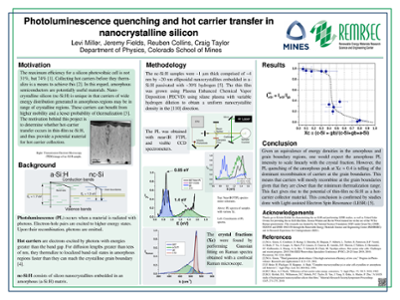 Name:
remrsec-Poster-2011-REU-LEVI-M ...
Size:
1.923Mb
Format:
PDF
Description:
Photoluminescence quenching and ...
Abstract
The maximum efficiency of silicon photovoltaic cell is not 31% but 74%. Collecting hot carriers before they thermalize is a means to achieve this. In this regard, amorphous semiconductors are potentially useful materials. Nanocrystalline silicon (nc-Si:H) is unique in that carriers of wide energy distribution generated in amorphous regions may be in range of crystalline regions. These carriers can benefit from higher mobility and a lesser probability of thermalization. The motivation behind this project is to determine whether hot-carrier transfer occurs in thin-film nc-Si:H, and thus provide a potential material for hot carrier collection.
Rights
Copyright of the original work is retained by the author.