Investigating the metastabilities surrounding hydrogen hydrates for energy storage applications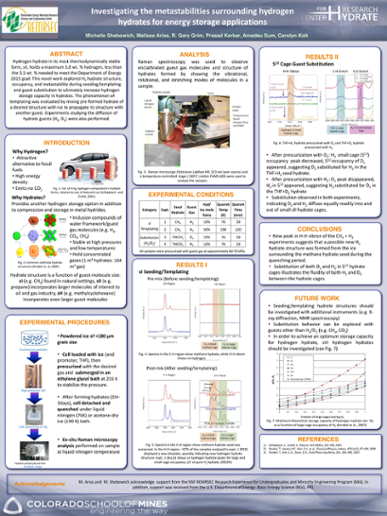 Name:
remrsec-Poster-2011-REU-MELISS ...
Size:
3.136Mb
Format:
PDF
Description:
Investigating the metastabilities ...
Abstract
Hydrogen hydrate in its most thermodynamically stable form, sII, holds a maximum 3.8 wt. % hydrogen, less than the 5.5 wt. % needed to meet the Department of Energy 2015 goal. This novel work explored H2 hydrate structure, occupancy, and metastability during seeding/templating and guest substitution to ultimately increase hydrogen storage capacity in hydrates. The phenomenon of templating was evaluated by mixing pre-formed hydrate of a desired structure with ice to propagate its structure with another guest. Experiments studying the diffusion of hydrate guests (H2, D2) were also performed.
Rights
Copyright of the original work is retained by the author.