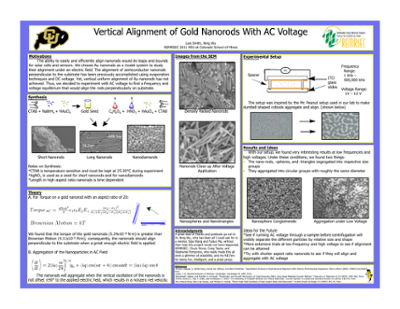 Name:
remrsec-Poster-2011-REU-LOIS-S ...
Size:
2.801Mb
Format:
PDF
Description:
Vertical alignment of gold ...
Abstract
The ability to easily and efficiently align nanorods would improve solar cells and sensors by leaps and bounds. We choose Au nanorods as a model system and studied their alignment under an electric field. The alignment of semiconductor nanorods perpendicular to the substrate has been previously accomplished using evaporation techniques and DC voltage, yet vertical uniform alignment of Au nanorods has not been achieved. Thus, we decided to experiment with AC voltage to find a frequency and voltage equilibrium that would align the rods perpendicularly on substrate.
Rights
Copyright of the original work is retained by the author.