Facile method for making monodispersed colloidal plantinum nanocrystals, A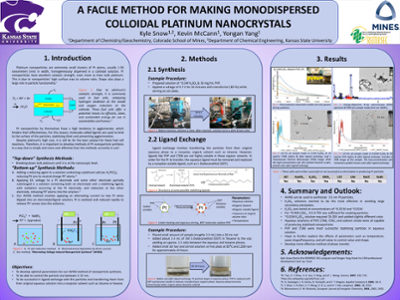 Name:
remrsec-Poster-2011-REU-KYLE-S ...
Size:
4.730Mb
Format:
PDF
Description:
A facile method for making ...
Abstract
Platinum nanoparticles are extremely small clusters of Pt atoms, usually 1-50 nanometers (nm) in width, homogeneously dispersed in a colloidal solution. Pt nanoparticles have excellent catalytic strength, even more so than bulk platinum. This is due to nanoparticles' high surface area to volume ratio. Shape also plays a large role in particle functionality. Pt nanoparticles by themselves have a high tendency to agglomerate, which hinders their effectiveness. For this reason, molecules called ligands are used to bind to the surface of the particles, stabilizing them and preventing agglomeration. Despite platinum's high cost, it is still by far the best catalyst for these fuel cell reactions. Therefore, it is important to develop methods of Pt nanoparticle synthesis in a way that is simple and more cost-effective than the methods currently in use. The objectives of this research are to develop optimal parameters for our AVINS method of nanoparticle synthesis, to control the particle size between 1-15 nm, and to be successful in ligand exchange by transferring the particles from their original aqueous solution into a nonpolar solvent such as toluene or hexane.
Rights
Copyright of the original work is retained by the author.