Effect of environmental aging on the mechanical properties of PMMA material used in concentrating photovoltaics, The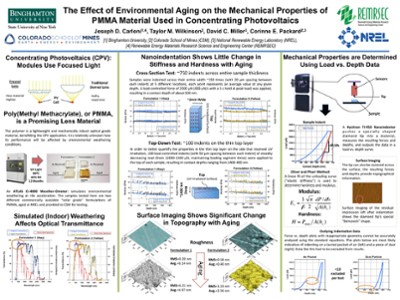 Name:
remrsec-Poster-2011-REU-JOSEPH ...
Size:
3.350Mb
Format:
PDF
Description:
The effect of environmental aging ...
Abstract
Concentrating photovoltaics (CPV) modules use focused light. A frensed lens requires less material and is lighter than a bulky and expensive traditional domed lens. A promising lens material is poly(methyl methacrylate) or PMMA. This polymer is a lightweight and mechanically robust optical grade material, benefitting the CPV application. It is relatively unknown how its performance will be affected by environmental weathering conditions. An ATLAS Ci-4000 Weather-Ometer simulates environmental wreathing at >8x acceleration. The samples tested here are two different, commercially available, solar grade formulations of PMMA, aged at NREL and provided to CSM for testing.
Rights
Copyright of the original work is retained by the author.