Recovery of iodine from produced water through anion resin exchange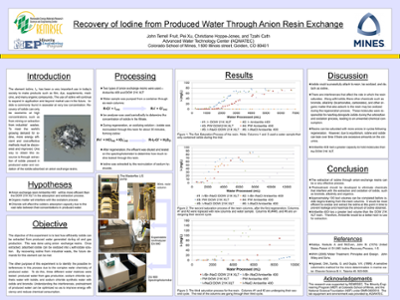 Name:
remrsec-Poster-2011-REU-JOHN-T ...
Size:
1.591Mb
Format:
PDF
Description:
Recovery of iodine from produced ...
Abstract
The element iodine, I2, is very important to current society. It is used to make products such as film, dye, supplements, medicine and many organic compounds. The use of iodine will continue to expand in application and market use in the future. Iodide is commonly found in seawater at very low concentration. Recovery of iodide can only be economical at high concentrations, such as from mining or extraction from industrial waste. To meet the world's growing demand for iodine, more energy efficient and cost effective methods must be discovered and improved. One way to obtain this resource is through extraction of iodide present in produced water and oxidation of the iodide adsorbed on anion exchange resins.
Rights
Copyright of the original work is retained by the author.