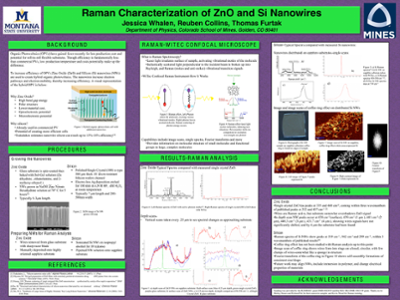 Name:
remrsec-Poster-2011-REU-JESSIC ...
Size:
1.351Mb
Format:
PDF
Description:
Raman characterization of ZnO ...
Abstract
Organic Photovoltaics (OPVs) have gained favor recently for low production cost and potential for roll-to-roll flexible substrates. Though efficiency is fundamentally less than commercial PVs, low production temperature and costs potentially make up the difference. To increase efficiency of OPVs, Zinc Oxide (ZnO) and Silicon (Si) nanowires (NWs) are used to create hybrid organic photovoltaics. The nanowires increase electron pathways and electron mobility, thereby increasing efficiency. Zinc Oxide is used for its high band gap energy, polar structure, low material cost, optoelectronic potential, and microelectronic potential. Silicon is already used in commercial PV, has potential of creating more efficient cells, and Tsakalakos estimates nanowire silicon can reach up to 15%-18% efficiency.
Rights
Copyright of the original work is retained by the author.