Successive ionic layer adsorption and reaction for organic/inorganic interfaces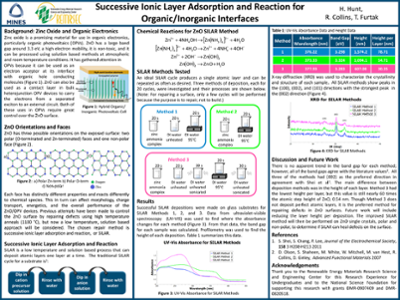 Name:
remrsec-Poster-2011-REU-HEATHE ...
Size:
1.350Mb
Format:
PDF
Description:
Successive ionic layer adsorption ...
Abstract
Zinc oxide is a promising material for use in organic electronics, particularly organic photovoltaics (OPVs). ZnO has a large band gap around 3.3 eV, has a high electron mobility, is non-toxic, and can be processed using solution based methods at atmospheric and room temperature conditions. It has gathered attention in OPVs because it can be used as an electron acceptor at its interface with organic hole conducting molecules. ZnO can also be used as a contact layer in bulk heterojunction OPV devices to carry the electrons from a separated exciton to an external circuit. Both of these uses in OPVs require great control over the ZnO surface.
Rights
Copyright of the original work is retained by the author.