Synthesis and characterization of Br- and Cl- anion exchange membranesfor use in alkaline polymer electrolyte fuel cells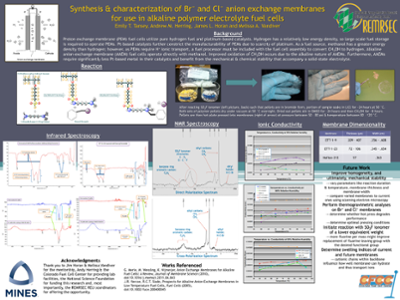 Name:
remrsec-Poster-2011-REU-EMILY- ...
Size:
3.669Mb
Format:
PDF
Description:
Synthesis and characterization ...
Abstract
Proton exchange membrane (PEM) fuel cells utilize pure hydrogen fuel and platinum-based catalysts. Hydrogen has a relatively low energy density, so large-scale fuel storage is required to operate PEMs. Pt-based catalysts further constrict the manufacturability of PEMs due to scarcity of platinum. As a fuel source, methanol has a greater energy density than hydrogen; however, as PEMs require H+ ionic transport, a fuel processor must be included with the fuel cell assembly to convert CH3OH to hydrogen. Alkaline anion-exchange membrane (AAEM) fuel cells operate directly with methanol. Improved oxidation of CH3OH occurs due to the alkaline nature of AAEMs. Furthermore, AAEMs require significantly less Pt-based metal in their catalysts and benefit from the mechanical and chemical stability that accompany a solid-state electrolyte.
Rights
Copyright of the original work is retained by the author.