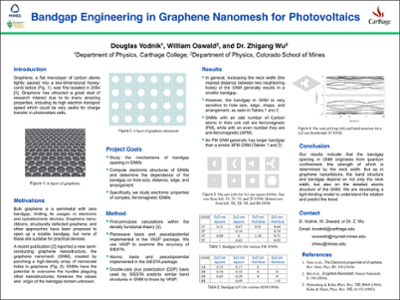 Name:
remrsec-Poster-2011-REU-DOUGLA ...
Size:
1.450Mb
Format:
PDF
Description:
Bandgap engineering in graphene ...
Abstract
Graphene, a flat monolayer of carbon atoms tightly packed into a two-dimensional honeycomb lattice, was first isolated in 2004. Graphene has attracted a great deal of research interest due to its many amazing properties, including its high electron transport speed which could be very useful for charge transfer in photovoltaic cells. Bulk graphene is a semimetal with zero bandgap, limiting its usages in electronic and optoelectronic devices. Graphene nanoribbons, structurally defected graphene, and other approaches have been proposed to open up a sizable bandgap, but none of these are suitable for practical devices. A recent publication reported a new semiconducting graphene nanostructure, the graphene nanomesh (GNM), created by punching a high-density array of nanoscale holes in graphene. GNMs have the potential to overcome the hurdles plaguing other nanostructures; however, the values and origin of the bandgap remain unknown.
Rights
Copyright of the original work is retained by the author.